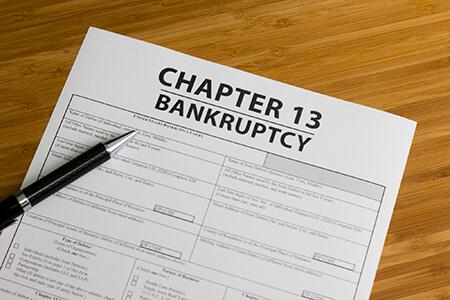 Why File Chapter 13 over Chapter 7 Bankruptcy?
For most people, chapter 7 bankruptcy is the preferred choice of filing bankruptcy because it is over quickly and in most cases the debtor does not lose any money or property to the court. However, there are times when it becomes necessary to look at chapter 13 bankruptcy.
There are 2 instances that occur most often, which cause bankruptcy debtors to file chapter 13 bankruptcy rather than chapter 7 bankruptcy. First, the debtor doesn't qualify for chapter 7 because their income is too high. In bankruptcy law, a median income is set for debtors in chapter 7.
A six-month average of all income from all sources is tallied and an average is taken. If the debtor's income is higher than the median set for chapter 7 bankruptcy, then the debtor is forced into chapter 13 bankruptcy.
A good bankruptcy attorney may be able to plan around this problem by waiting to file when income is lower. In some cases, the debtor received a boost of income from a bonus or overtime. When that happens, the debtor can wait until that larger paycheck falls off the six-month average to file. But, if all that fails, then the debtor must declare chapter 13 bankruptcy.
Second most common reason for chapter 13 filers is because the debtor has assets, he or she would lose in chapter 7, therefore, the debtor must look to filing chapter 13 bankruptcy to avoid the court from taking those assets. This may occur for several reasons including, the debtor has more vehicles than what can be protected, higher equity than what the bankruptcy law allows, or any other unexempt or unprotected property that the debtor does not want to turn over to a chapter 7 trustee. When that happens, a chapter 13 is to only way to protect that property.
A debtor in chapter 13 bankruptcy is afforded all the same protections as a chapter 7 bankruptcy debtor. The debtor receives the automatic stay, which prevents creditors from seeking to sue, garnish, levy, repossess, foreclose on any of the debtor's property. Creditors are forbidden from contacting the debtor for any reason, including reporting on credit, through mail or phone, and email. The debtor also is given the same protections for their property called exemptions. The exemptions protect your property from being taken by a trustee or the court. It is recommended that any debtor wanting to file a chapter 13 should speak with a competent and knowledgeable chapter 13 bankruptcy attorney prior to filing any chapter 13 case. Bankruptcy law is complex, and it takes an experienced bankruptcy lawyer to know the ins and outs of chapter 13 bankruptcy. Therefore, a Chapter 13 bankruptcy stops creditors form doing the following: